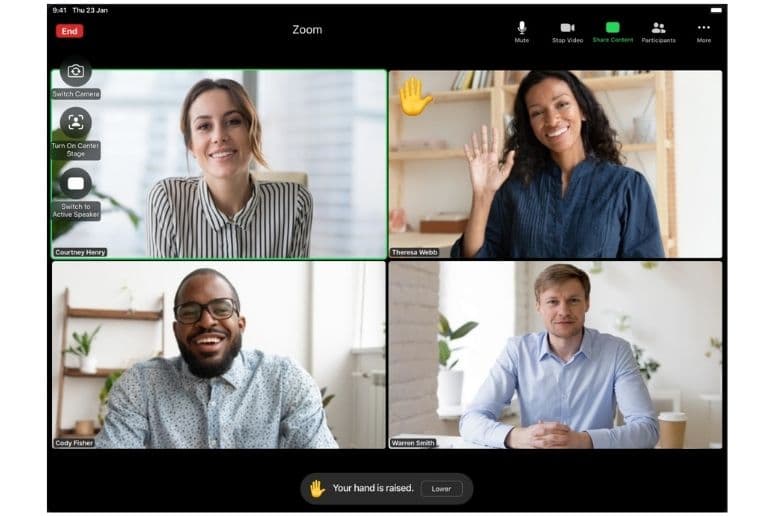 A few years ago, this was the exception. Today, this is the norm. The virtual interview is the tool preferred by the headhunter to contact a potential candidate to try to fill a position. For the candidate, this one-on-one 2.0 is often done from his telework space or elsewhere in his residence. It can also take place in a coworking space, an increasingly popular alternative. The virtual job interview requires specific preparation compared to the in-person interview or the telephone interview by a headhunter. As it involves video, we must avoid certain pitfalls inherent in this medium.
In my work as a direct approach recruiter, I find that good potential candidates lose points unnecessarily in virtual mode. Some things have changed with the arrival of Zoom and Team, while other things have not changed at all. The content of a job interview, virtual or not, usually follows a fairly predictable course, but not necessarily in the following order: a discussion of the position to be filled and a review of your skills as a candidate; an update on the specific needs of the company; an overview of your professional career; the review of your achievements and of course, the remuneration requested.
Prepare!
What does not change during an interview is the necessary preparation of the candidate. From the point of view of a headhunter or a recruitment agency, the lack of preparation of a candidate will always remain the main problem of an interview, whether it takes place virtually or face-to-face. A candidate who is not prepared loses a lot of points from the start, even if he is good!
We just have to go back to the basics and remember why we are gathered in this virtual one-on-one. The job opening we discuss includes responsibilities and tasks that you are particularly good at, which includes a good understanding of your behavioral skills or soft skills. You have to be ready to answer all (let's say almost all) the questions asked by the headhunter.
Take care of your clothing
What changes from a phone interview is that the visual aspect becomes important. For some, it can be a real headache. For others, it's not at all, but it should be a little more. Try to avoid interviews in pajamas or jogging tracksuits when making first contact with a headhunter. The idea is not to take the jacket or suit out of the wardrobe, but to make a small effort. The context of teleworking is in itself a more relaxed context than the traditional office.
There is a good chance that the headhunter has never seen you in a strictly professional work environment and whether he likes it or not, it will influence him. A minimum of rigor given to the clothing presentation will be perceived as a gesture of respect on your part. Otherwise, it could be interpreted as a lack of interest in the position.
Tidy up the room or use a wallpaper
In some cases, the virtual interview will take place in a room that you have chosen as your home office. Often it will be in the improvised décor of your bedroom, living room or on the corner of the dining room table. That is not the most important thing.
In any case, your environment says much more about you in the context of teleworking than a neutral office or coworking space. The first virtual job interview is a video conversation that seems innocuous from this point of view, but it is not. It is simply a matter of paying attention to small details that seem innocuous to you because you no longer notice them, but which are observed by the headhunter. You can also use wallpapers. They are very convenient, especially if the living room is not tidy.
Other things to watch out for include:
Make sure that the natural light or lighting is good and that your face is not backlit.
Choose a quiet room and close the door to avoid noise and distractions.
Avoid the visible mess behind you and if you have to use a wallpaper, there are a lot of them.
Arrive on time for the appointment!
Test the platform
A microphone left in silent mode or a rather slow internet connection are small problems that will create a lot of distraction and are easy to avoid. It doesn't matter if your virtual interview takes place on Zoom, Microsoft Teams, Meet, Google Hangouts, Facetime, or any other video conferencing platform, why not take a test with friends before your virtual interview?
Don't forget to put your cell phone in mute mode and be sure to open the camera! Make sure your eyes get to the middle of the image on the screen. Finally, it's up to you to see that everything works reasonably well.
Know the position to be filled
When a candidate is interviewed for more than one position, the headhunter expects you to be able to clearly answer questions about the position to be filled. If you are asked a question about it and you answer too quickly, without thinking or vaguely, this lack of rigor can negatively influence the judgment of the headhunter.
The job description should be read carefully. During the conversation, if you say you want to work from home when the job description talks about a full-time factory job (or vice versa), you lose points. Express yourself professionally, using language that reflects your skills and experience.
Take an interest in the company
It's kind of the same for the company. Remember that the headhunter is the employer's representative. The company mandated him to find promising candidates. If this is a second interview, have you taken the time to understand the company's mission since our first conversation? To be interested in his projects? If you know absolutely nothing about the company where you want to work, it works against you. It's normal that you don't know a company you've never set foot in, but it's not normal that you don't care about it at all.
Know your strengths and weaknesses
No matter what your experience is, whether it's your first job or whether you're an experienced executive, it's important to know yourself. Not only your skills, but also your personality. For example, how do you react in difficult situations? This will help you answer the famous question: "Can you give me an example of a problem you had to overcome and how you solved it?" Or other issues like that. This is just one example.
A good knowledge of yourself, as an individual, clearly expressed, will allow the headhunter to confirm his own intuitions and see if you are the right person for the position he has in mind. Remember, it is in a methodical way that he builds his list of the "best" candidates. In the end, your virtual job interview should match the image you give of yourself on your LinkedIn profile and resume.
Enjoy the benefits of good preparation
It's important to take the time you need to prepare for a first conversation with a headhunter, as you'll reap several benefits:
If you are well prepared in terms of content, you will be less stressed during the interview because you will recognize the "pitfalls". Consider that this preparation will be useful to you for a long time.
You will be more in control of your message and it will be easier for you to improvise on certain points that are important to the headhunter. When you are well prepared and have ready answers, you can always "leave the cassette" in case of failure of inspiration. However, it must not become a reflex and we must be more personal and authentic on certain other points.
If you have taken care to identify the needs of the company you want to work for (identifiable in the job description and by your research), you will demonstrate professionalism. The headhunter will be happy to meet you at another time to help you progress in your career plan.
Send us your CV
Visit the Recruscope website regularly and discover our headhunting services by direct approach. Do not hesitate to send us your CV via our website and contact us. We could develop a valuable collaboration together.